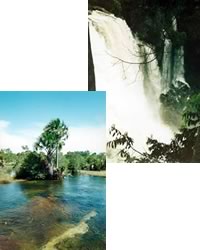 The sustainability program carried out by Fazenda Agronol comprises a system of socio-environmental management and conservation for the production of specialty fruits.
Fazenda Agronol is located inside the Janeiro River Basin Environmental Protection Area. Thirty percent of the farm's area is reserved for preservation of the native flora and fauna. Fazenda Agronol has developed special projects to breed local wild animal species. Another ten percent of the farm is set aside to protect the native vegetation along water bodies and around water springs.
All farm activities are part of an integrated system that manages quality of the products, environment conservation and living standard of all those involved in production. This integrated system controls and interconnects product quality and yields, environmental protection, and the well being of all workers.
About 200 families live on Fazenda Agronol, in villages that have safe and reliable water supply and sanitation, electricity and telephone services. The farm's activities create 700 year-round jobs. Over 1,200 additional workers are hired for the harvesting season.
Fazenda Agronol has three schools for 240 students combined, a day-care center for children, transport services, a health clinic with a resident doctor, and a club with complete facilities for sports and recreation for all permanent and temporary workers and their families.