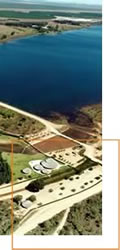 Fazenda Agronol is a success story of high technology applied to agriculture. The farm's saga began in the early 1980s with an extensive search for an ideal site to grow fruit under irrigation. The Cerrado (savanna) area of the Western Highlands of Bahia State was chosen as the best site for the project. A unique combination of good geographic location, flat terrain, abundant water sources, high temperatures, well-defined rainfall patterns and plentiful labor supply made Western Bahia the obvious decision.
Today, more than a decade after the journey commenced, Fazenda Agronol has an irrigated area of approximately 7,410 acres dedicated to fruit and coffee growing. Both projects utilize state-of-the-art concepts of environmental management and social responsibility to achieve sustainable production coupled with high yields and outstanding quality.
Fazenda Agronol produces top quality fruit that meets the most demanding standards of the importing markets: high quality, reliable production and, most importantly, dependable capacity to meet long-term supply commitments.
Fazenda Agronol currently allocates 4,200 acres of irrigated land to the production of papaya, guava, orange, taiti lime, tangerine and pineapple.
| | | |
| --- | --- | --- |
| Fruits | Variety | Area (acres) |
| Papaya | Formosa, Sunrise e Golden | 1,300 |
| Orange | Pêra Rio, Bahianinha e Piralima | 470 |
| Limes | Taiti | 370 |
| Tangerine | Ponkan e Murcot | 125 |
| Guava | Paluma | 62 |
| Pinapple | | 50 |
As part of an effective crop rotation system, approximately 1,235 acres are planted with forage crops for cattle feeding, thereby promoting the conservation of the soil.
In addition to advanced methods of cultivation, Fazenda Agronol's fruit project has an outstanding infrastructure to process our products. Our state-of-the-art packinghouse for post-harvest handling and conservation contains hydrothermal treatment equipment and refrigeration cooling rooms with controlled humidity. All steps are performed within stringent health and safety controls. The fruit is carefully washed, selected, disinfected and packaged in modern packing rooms.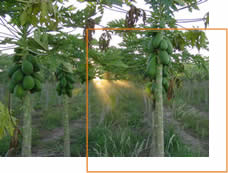 Fazenda Agronol has selected Eurep-GAP and PIF (Integrated Fruit Production Program of the Brazilian Ministry of Agriculture) certificates to provide additional assurance to our existing and potential customers of our full compliance with international standards for fruit production and export.
Close control of every production step, from the selection of the land to post-harvest processing, is revealed in the end result: high quality fruit grown with environmental concerns and social responsibility. This is the mission of Fazenda Agronol.
Fazenda Agronol is also an important coffee producer and exporter, which is grown in an area of 3,705 acres under irrigation. The average annual production is 100,000 bags of 60 kg. The full processing cycle of fine quality coffee beans is performed within the property's high technology milling facility. Fazenda Agronol exports its coffees directly to customers worldwide.