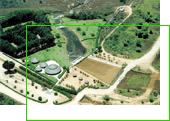 Fazenda Agronol, a renowned quality producer, uses state-of-the-art technology in our specialty coffee crops on the highlands of western Bahia. Perfect climate, comprehensive irrigation and selection of the best Arabica varieties (Catuai, Catucai and Bourbon) combine to generate outstanding results: shorter production cycle, uniform blossom and maturation, world class productivity and superb quality.

Eight million trees spread across 3,700 acres yield 100,000 bags of fine coffee per year. Without the risk of drought or frost, annual average production has been kept at these levels over the years. Modern harvesting and processing technology ensures a rigorous maturation-based bean selection. Gigantic sun drying grounds, wooden silos and last generation process equipment allow our coffee to be exported directly from the farm.

Fazenda Agronol is also a large fruit producer: 1,730 acres of papaya and 1,235 acres of citric fruit. High quality fruit sold at the demanding European market establishes alternative sources of income, additional jobs and year-round employment for the families living on our farm.